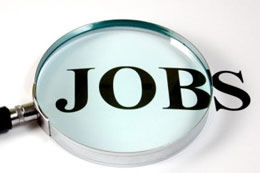 CONTACT:
Mike Decker, Director
(828) 349-2020

Pam Perry, HR Coordinator
(828) 349-2595
---
Fillable / Savable
* NC State Application
PD-107. Click here
---
PD-107 Must be submitted to:
Department of Commerce
WorkForce Solutions - (DWS)
427 Harrison Avenue, Franklin, NC 28734
Macon County Human Resources
Job Listings
Macon County Government is dedicated to hiring and retaining progressive, well-qualified and motivated employees. We offer equitable salaries and excellent benefits to talented, competent individuals who can contribute to County Government through their employment. Outstanding professional service to the public is our goal.

Macon County provides it's employees an exceptional health insurance benefit, paid life insurance, County matched Local Government Retirement, longevity pay, paid holidays, vacation and sick leave, and numerous tax deferred savings and supplemental insurance plans.

If you feel you can contribute to our workforce in a positive way, please review the positions listed below. All applications for employment are taken through the North Carolina Division of Workforce Solutions. If you have any questions about the positions listed below, or would like to apply, you may contact the Division of Workforce Solutions at (828) 369-9534, or access their web site at www.ncesc.com. You may also call Macon County Human Resources with inquiries at
(828) 349-2020 or email us - mdecker@maconnc.org.

Macon County is an ADA/AA Equal Opportunity Employer

AVAILABLE JOB LISTINGS

Position: Director
Macon County Department of Social Services
Hiring Range: $65,000 - $86,000 with compensation negotiable based on experience and qualifications.
Closing date: February 15, 2015

Macon County (County Seat, Franklin, NC), home to the headwaters of the Nantahala River and a hub of bountiful outdoor activities, is seeking a tireless advocate, team oriented and mission driven leader to be their next Department of Social Services (DSS) Director who will lead competent staff and work effectively within demands of an organization which follows State of NC Health and Human Services regulations and is a coordinating department at the Macon County level within the Commissioner-Manager form of government.

The successful leader has a track record of partnering and collaborating with staff, community, regional partners, the DSS Board and County Commissioners to carry out the mission of the department "Partnering to promote, protect and strengthen our community." with the commitment to do so by "... serving through compassion, learning, integrity, excellence, new innovations and teamwork."

The Community: With more than 519 square miles, 231 of which are within Nantahala National Forest, Macon County is located in Western North Carolina. The County includes 11 Townships including the municipalities of Franklin and Highlands with over 33,922 year round residents. The County offers abundant cultural and recreational opportunities hosting 48 miles of the Appalachian Trail along with the Nantahala Outdoor Center, one of the most popular whitewater rafting sites in the US, in close proximity. An hour from Asheville and about two hours from Atlanta, Macon County affords residents the best of Mountain living with access to urban environments when desired.

Position responsibilities: The DSS Director is responsible for administering state and federal social services programs established by Chapter 108A of the North Carolina General Statutes in accordance with applicable federal and state rules, and in Macon County, oversees the Department of Social Services with a $6.6 M county budget and 60 employees serving four divisions: Children's Social Work Services, Family and Adult Social Work Services, Economic Services and Senior Services.

In addition, Macon County DSS is an outstanding organization. It has received recognition for seamless administration of NC FAST as well as being number one in meeting State goals for Child Support Services. Economically and age diverse, the County has an overall poverty level of 21% with less than 9% of residents over the age of 65 compared with a rate of nearly 32% for those under the age of 18 and about 50% for those under the age of five *.
* Source: quickfacts.census.gov

DSS programs must find ways to creatively respond to the unemployed, child poverty, and the needs of older persons. The effective DSS Director will carry out several key priorities including finalizing and implementing the strategic plan and community vision, leveraging partnerships with local and regional partners and proactively seeking and supporting economic development opportunity.

For more information about Macon County DSS, check out their blog here maconcountydss.blogspot.com


The Successful Candidate is:
able to maintain the existing esprit des corps and build upon a culture of open and transparent communication;
skillful in diplomatically engaging with a diversity of stakeholders such as individual citizens, community groups, DSS Board, County Board of Commissioners, employees, regional, state and federal authorities in order to leverage County opportunities and mitigate challenges;
accountable by creating and applying performance metrics that objectively measure department performance against mission critical goals;
an advocate for and effective in explaining services of the agency to regulatory bodies and programmatic partners;
adept at ensuring the marketing and communication of programs to eligible citizens through various means;
one with a track record of breaking down silos and barriers while building bridges and paths to solutions in partnership with others;
experienced in developing, managing and coordinating a budget that consists of funds from multiple sources;
able to effectively recruit, retain, manage, develop and engage talented qualified staff;
able to enhance and build on a culture of excellent customer service to DSS program customers;
knowledgeable about the legal and philosophical basis for public assistance programs along with a theoretical knowledge base of the field of social work.
a networker with peers in neighboring communities and throughout the state.
a creative thinker in assessing ways to meet program needs within staffing and budgetary constraints;
an excellent communicator both verbally and in writing and possesses well-developed interpersonal skills and abilities;
an accountable manager who holds high expectations of self and others while also being an effective and respected leader.
Qualifications: The successful candidate should possess a master's degree in social work (MSW) and two (2) years of supervisory experience in the delivery of client services; or a bachelor's degree in social work and three (3) years of supervisory experience in the delivery of client services one (1) of which must have been in Social Services; or graduation from a four (4) year college or university and three (3) years of supervisory experience in the delivery of client services, two (2) of which must have been in Social Services; or an equivalent combination of training and experience.

Applicants must have an extensive knowledge of management principles applicable to the operation of a human service delivery system. Applicants must also have an understanding of the organizational structure of a department of social services and applicable county policy as well as state and federal laws, rules, and regulations.

Salary Range and Application Process:
Hiring range $65-86K with compensation negotiable based on experience and qualifications. There is a residency requirement within 12 months of appointment.

To *apply, please go to the Developmental Associates application portal developmentalassociates.com/client-openings/client-positions and then follow the links to the DSS Director - Macon, County, NC posting. All candidates must complete an online application and may upload additional materials if desired. *The "apply" button is mid-page on the right side next to "Print Job Information |"

Application review will begin February 01, 2015 and the application period will close February 15, 2015. An assessment center to evaluate semi-finalists will be held March 24-25, 2015 in Macon County. All inquiries should be emailed to Maconhiring@developmentalassociates.com Macon County is an Equal Opportunity Employer.
---
Position: Public Health Educator
Macon County Public Health Center
Salary Grade 26, $32,268
Closing date: February 11, 2015
Responsibilities:
This position serves as the Program Coordinator for the Smart Start Outreach Program. The employee will be expected to: assess the health and safety needs and practices in child care facilities, establish and review health policies and procedures, manage and prevent injuries and infectious diseases, and provide health education for staff members, families and children.

Hours of work are generally 8-5 Monday through Friday with occasional evening & weekend hours.
Minimum Training and Experience Requirements:
Graduation from a four-year college or university with a major in health education; or graduation from a four-year college or university and completion of one year of on-the-job training as a public health educator.
How to apply:
A State application (PD-107) is required and may be obtained at and submitted to the Division of Workforce Solutions, 427 Harrison Avenue, Franklin, N.C, and must be submitted on or before the closing date. Please include 3 references with contact information and a valid email address for all correspondence from the employer to the applicant. Resumes will not be considered.
AN EQUAL OPPORTUNITY EMPLOYER/ADA EMPLOYER.
All prospective employees are subject to a criminal background check

---
---
Position: Transit Driver - Part Time
Macon County Transit
Starting Salary $10.00/hr
Closing date: Applications accepted until filled.

Macon County is accepting applications for the position of Part Time Transit Driver for the Transit Services Department

This position requires the ability to drive a transit vehicle to provide transportation services for Macon County citizens and residents. Work includes following an assigned route schedule, assisting passengers in using the services, collecting funds for services, accurately completing required reports and records and maintaining the cleanliness of vehicles. The successful candidate must have a special understanding of the needs and behavior of passengers served, including the elderly and those with disabilities.

Hours of work vary, typically consisting of 10-hour workdays that usually begin prior to 8:00 a.m. and/or extend beyond 5:00 p.m.


Special requirements of this position include but are not limited to the following:
Applicant must be at least 21 with 5 years minimum driving experience
Valid NC Driver's license with clean driving history
Ability to use lift-equipped vehicle (requires pushing, pulling, and stooping)
Travel outside Macon County
CDL license with "P" endorsement or obtain within 60 days of employment
Random, Post-Accident, and Reasonable Suspicion Drug Testing after employment
Must pass Pre-employment drug screening
Must pass pre-employment Background check

How to apply:
A State application (PD-107) is required and may be obtained at and submitted to the Division of Workforce Solutions, 427 Harrison Avenue, Franklin, N.C, and must be submitted on or before the closing date. Please include 3 references with contact information and a valid email address for all correspondence from the employer to the applicant. Resumes will not be considered.

AN EQUAL OPPORTUNITY EMPLOYER/ADA EMPLOYER
All prospective employees are subject to a criminal background check

---
Position: Part Time Emergency Medical Technician, Basic, Intermediate and Paramedic Levels
Salary Salary: $10.64 - $13.06 / hour depending on level of certification
Closing date: Until Filled
Description:
Provide pre-hospital medical care. No set schedule, employee will fill vacancies as needed. A more comprehensive job description available upon request
Minimum Requirements:
High School Diploma or GED Equivalent.
Valid NC Driver's License
Current NC Certification in Emergency Medicine

How to Apply:
A state application (PD107) must be completed and returned to the

Division of Workforce Solutions
427 HARRISON AVENUE
FRANKLIN, NC 28734

Resumes may not be substituted for a completed application. Please provide 3 references with contact numbers and an e-mail address along with your application. A criminal background check will be completed before hiring.
AN EQUAL OPPORTUNITY EMPLOYER/ADA EMPLOYER