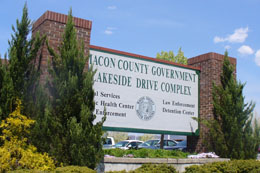 CONTACT:
Macon County Sheriff's Office
Law Enforcement Center
1820 Lakeside Drive
Franklin, NC 28734

Phone: (828) 349-2104
Fax: (828) 349-2275

Detention Captain Email
Detention Administrative
Officer/Notary Email
---
DOWNLOADS:
Sheriff's Office Organizational Chart

Compliment an Employee

File A Complaint
---
RESOURCES:
Search Macon County
Sexual Offender Registry
Protective Order & Other
Judicial Forms
Macon County Law Enforcement Center
Detention Center
The Macon County Detention Center, built in 1999, is a 75 bed facility for holding sentenced and unsentenced individuals who have less than a year to serve or are awaiting sentencing.

The facility has three male dormitories. Two of the dormitories hold 24 inmates each and one dormitory holds 12 inmates. There is one female dormitory, which holds 12 female inmates. There is a medical isolation cell and two single lock down cells for inmates with special needs.

The dorms are under watch by the control room operator and detention officers, who make regular rounds throughout the facility. In addition, there are more than 20 video cameras, which also provide surveillance throughout the facility.

The detention center has an agreement with the local health department to take care of inmates in need of non-emergency medical attention.

The detention center has a work release program that allows a sentenced inmate, who meets certain requirements, to be checked out of the facility at 7 a.m. and return at 7 p.m.

Inmates are also given the opportunity to take part in Bible studies and worship services twice a week.
There are also counseling and substance abuse programs offered to inmates.

The following are responsible for the administration of The Macon County Detention Center.
Lt. Steve Stewart › Mon. - Fri. 9am - 5pm › (828) 349-2264
Ms. Lu Sharpe › Mon. - Fri. 9am - 5pm › (828) 349-2270
Sgt. Doug Hampton › Mon. - Fri. 7am - 5pm › (828) 349-2264
Sgt. Robert Young › Mon. - Fri. 4pm - 5am › (828) 349-2264
VISITATION SCHEDULE:
Dorm #1 1:00-3:30pm Saturday
Dorm #2 1:00-3:30pm Sunday
Male Lock Down 3:30-5:00pm Saturday
Segregation NO VISITATION
Attorneys Business hours - Monday through Friday 9:00am-5:00pm
Clergy Scheduled through Sheriff's Office Chaplain
VISITATION RULES:
Only 2 visitors allowed per inmate (children under 16 years of age do not count).
Visitors must be on the inmate's "Visitors List".
The only items that may be brought to visitation are money orders or cashier's checks (made out to the inmate).
It is the inmate's responsibility to inform family who is on their "Visitors List" and what dorm they are in.
THERE WILL BE NO EXCEPTIONS TO THESE RULES
The Macon County Detention Center is administered by Lt. Steve Stewart Joined the U.S. Air Force in 1993
Honorably discharged in 1996
Deputy Sheriff/Road Patrol officer with the Macon County Sheriff's Office 1998
Police Officer with Franklin Police Department 2001 - 2005
Investigator with Macon County Sheriff's Office 2005 - 2006
Senior Police Advisor in Iraq 2008 - 2011
Lieutenant, Jail Administrator Macon County Sheriff's Office 2011
The Detention Center Administrative Officer/Notary is Ms. Lu Sharpe.
The Detention Center Chaplain is Mary Ann Thompson.