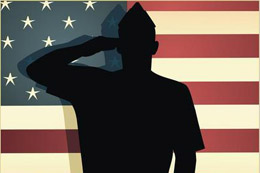 CONTACT:
Macon County Veteran's Services
104 East Main Street
Franklin, NC 28734

Daylon Plemens, Director
(828) 349-2151

Leigh Tabor
Assistant Service Officer
(828) 349-2151

Office Hours:
8:00am to 5:00pm
Monday thru Friday
---
Veteran's Links
NC Dept of Administration
Division of Veterans Affairs
National Personnel Records Center (Service Records, Discharges and Medals)
Macon County, North Carolina • Veterans Services
Macon County Veterans Service Office provides an unsurpassed personalized service to veterans and their dependents in obtaining VA benefits. All services are provided without charge by VA Accredited Representatives.
Strictly controlled confidentiality is maintained at all times under penalty of law. Service Officers are required to be knowledgeable in federal, state and local laws pertaining to veterans and their dependents. This office is committed to provide innovative services and programs to meet the new and expanding requirements of an aging veterans' population, and those veterans returning from recent wars with new and sometimes unknown disabilities.
Assistance in the following areas is provided on a daily basis:
Compensation for service-connected disabilities
Pension for non-service connected disabilities
Compensation to dependents for service-connected deaths
Pension to dependents for non-service-connected deaths
Burial benefits
Federal grave markers
Life insurance
Education and vocational rehabilitation
Home loan certificates
VA hospital enrollment
Military records corrections
Obtaining military records, discharges, medals and awards
CHAMPVA
Tricare
Resources
American Legion Post 108 - (828) 524-4306
Employment for Veterans(Employment Security Commission) - (828) 369-9534
Franklin Community Based Outpatient Clinic (CBOC) - (828) 369-1781
Military ID cards:

Asheville, NC - (828) 271-5011

Athens, GA - (706) 354-7339

Marietta, GA - (678) 655-6230

Military Retired Pay Center - (800) 321-1080
National Guard - (828) 524-7509
NC Department of Veterans Affairs - (800) 827-1000
Direct Deposit - (877) 838-2778
Educational Assistance - (888) 442-4551
Homeless Veterans Outreach - (336) 714-0793
Home Loans - (888) 244-6711
Life Insurance (NSLI) - (800) 669-8477
Medical Center (Asheville, NC) - (800) 932-6408
Vocational Rehabilitation - (336) 714-0810
NC State Scholarship Program - (828) 837-2616
Selective Service - (847) 688-6888
Transportation Services - (828) 349-2222
VFW Post 7339 - (828) 524-6859