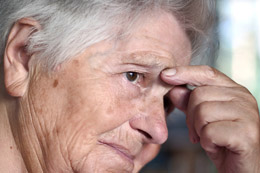 CONTACT:
Macon County Dept. of Social Services
R. Patrick Betancourt, Director
1832 Lakeside Drive
Franklin, NC 28734
Phone: (828) 349-2124
Fax: (828) 349-2401
Macon County • Department of Social Services
Report Adult Abuse
If you suspect a disabled adult is being abused, neglected or exploited please call Adult Protective Services Intake at (828) 349-2124. (After working hours call "911� and ask to speak with a Social Worker). You do not have to reveal your identity when you call.
North Carolina State law requires that all counties provide Adult Protective Services in order to ensure the safety of all disabled adults in the state. The Department of Social Services is the agency that receives reports of neglect or abuse, investigates those reports and provides services to prevent abuse or neglect from recurring. We strive to ensure and strengthen a caretaker's capacity to protect and nurture theses disabled adults while maintaining their safety and right to self-determination.
Watch for Signs of Abuse, Neglect or Exploitation of Seniors or Adults with Disabilities.
Signs of Possible Abuse
Unusual and unexplained bruises
Welts, fractures or burns in various stages of healing or in the shape of an object (rope, belt, restraints, electric burner)
Bed sores, weight loss or dry skin and lips
Clothing inappropriate for the whether condition
Inadequate shelter or medical care
Any deliberate confinement of an adult in a dangerous environment
Signs of Possible Self-Neglect
Forgetfulness in lighting or turning off stove or gas
Pointless wandering at night
Inability to cook, eat, bathe, toilet, dress or care for one's self
Unexplainable thinness or dehydration
Causing small fires
Living in an unsafe environment
Administering medication incorrectly
Inability to communicate
Signs of Possible Caretaker Neglect

Failure to provide adequate food, shelter, clothing, and attention to personal and incidental needs
Failure to manage resources to meet needs
Failure to provide a safe living situation that is not hazardous to the health and safety
Failure to provide adequate supervision
Failure by caretaker to provide and/or arrange for medical needs
Signs of Possible Exploitation
Unexplained withdrawals of money
Using deceit, treachery, or coercion to obtain money
Unusually interest by anyone in the older or disabled adult's finances
Difference between assets and lifestyles
Unusually large payments for services rendered
Failure to pay for basic needs (lights, phone)
Inappropriate sexual activities