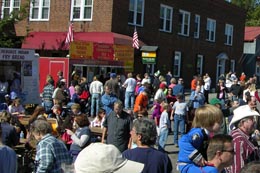 CONTACT:
Macon County Environmental Health
1830 Lakeside Drive, Franklin, NC 28734

Phone: (828) 349-2490
Fax: (828) 349-4136
E-Mail

Office Hours:
8:00 AM - 5:00 PM
Monday-Friday
---
FOOD CODE HANDOUTS
Food Rule Main Training
Date Marking Training
Employee Health Policy Agreement
Employee Health Policy Agreement(Spanish)
Employee Health Policy Agreement
Highly Susceptible Population Training
Sushi-Sashimi Training
---
Links & Resources
---
DIRECTIONS:
Turn onto Lake Emory Road off of 441 Business.

Turn LEFT onto Lakeside Drive.

Turn into Health Department Entrance;

Drive around LEFT side of building
till you reach back corner entrance.

Door is CODE ENFORCEMENT door.


This is the door you go in.
Macon County Public Health
Environmental Health Services
Food & Lodging Program
Click any of the Application Documents below, fill out and save to your Computer. Then print out and bring the completed application form(s) to Environmental Services. For permitting requirements of NOTE: Mobile Food Units, Push-Carts, Hot Dog Stands, BBQ Pits & mass gatherings, please make an appointment with an Environmental Specialist in the Food & Lodging Program.
NC FOOD CODE INFORMATION -
EFFECTIVE SEPTEMBER 1, 2012

"As of July 19, 2012, North Carolina has adopted the Food Code with the effective date of the new rules September 1, 2012. The Food Code is a scientifically based set of rules that may change periodically to stay abreast of the most current research on food protection."

2009 NC Food Code

NC Rules Governing Protection & Sanitation

NC Safe Plates

ANSI-CFP Accredited Training Courses

Food Date Marking Chart

When to Restrict or Exclude Employee for Illness


Temporary Food Establishment Application and Information
Application for new or existing restaurant
Other applications
---
North Carolina's Smoke-Free Restaurants and Bars Law

As of January 2, 2010, nearly all restaurants and bars in North Carolina and many lodging establishments are smoke-free, thanks to S.L 2009-27 (G. S. 130A-496), otherwise known as North Carolina's Smoke-Free Restaurants and Bars Law.

On this site, SmokeFree.NC.Gov, you will find information about the law, frequently asked questions, tools for businesses to prepare for the law, and information for citizens.

Complaints may be filed by calling the CARE-LINE at 1-800-662-7030 from 7 am - 11 pm seven days a week.