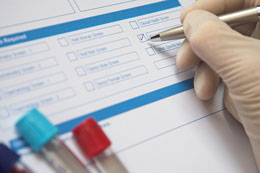 CONTACT:
Macon County Public Health Center
1830 Lakeside Drive
Franklin, NC 28734
Phone: (828) 349-2081
Franklin or Highlands
Fax: (828) 524-6154
Kathy McGaha, MS, Director

Macon County Public Health
Clinics

The Macon County Public Health Center General Clinic is open Monday through Friday 8:00 a.m. to 4:30 p.m. with the exception of holidays.
The General Clinic offers the following screening services to the public on a walk-in basis during normal operating hours. These services are provided for all clients who meet our Medical Director's Standing Order criteria:
Blood Pressure Screening
Blood Sugar Screening
Cholesterol/HDL/Lipid Panel
Tuberculosis Skin Testing
Strep Throat Testing
Lice Checks and Treatment
Ear Irrigation
HIV Testing
Sexually Transmitted Disease Services
Pregnancy Testing
Immunizations
---
ALL SERVICES ARE STRICTLY CONFIDENTIAL
The General Clinic is staffed by a registered nurse during operating hours with a Physician Assistant available for consult/referral when indicated. International travelers should call in advance to schedule an appointment to review immunization needs or to arrive at the clinic before 3:30 p.m.
Fees are charged for most services except STD testing and treatment, HIV testing and routine immunizations
Frequently Asked Question:
Question: I have just recently moved to Macon County and need to see a Doctor. Can I come to the Health Department for this?
Answer: Our Health Department does not have an MD on staff or provide primary medical care. Our services are provided under a set of Standing Orders signed by a Medical Doctor which allows us to perform certain screening tests and treat specific conditions. To determine if we can be of assistance to you, contact the Macon County Public Health Center and ask to speak with a nurse who will direct you to an appropriate source of care.